One of the best parts of Christmas is the festive cheese board.  I think it deserves it's own special time during the festivities, not tagged on to the end of Christmas lunch nor as part of the Boxing Day buffet, but perhaps as a stand-alone event on Christmas Eve or Christmas Day night.
A cheese board, or grazing board as I like to describe it, should have all you need to satisfy any nibbling desire.  Sweet, salty, pickled, creamy, sharp and crunchy.  It should feel a delight and ignite all the taste senses. So, if you are interested in creating a cheese board with a festive wow factor, then here are a few top tips.
Start with the 'board'
If you don't have a traditional cheese board, don't worry, you can use just about anything to display your cheese and accompaniments on.  Here I've used a large circular metal tray, it is light-weight and has handles so that it can be carried from the table to the coffee table depending where you might want to set up.  Think about layering your cheese display, and adding height if you can, by using a cake stand for a 'hero' cheese (more on that later).
Select your cheese
Depending on the number of people who will be eating, then decide on how much you need.  There is a simple rule to go by when thinking of the variety of cheeses to buy – go for a soft cheese (like Brie or Camembert) a hard or crumbly cheese like Comte or Cheddar and then a blue cheese (like Stilton or Roquefort).  If you have a local independent cheese monger nearby, you might like to use their knowledge and discuss your needs and what pairs well with each cheese – alternatively, you can use the clever Peter's Yard Pairing Wheel to guide you.
Choosing your crackers
You've sourced beautiful cheeses, now you need some equally special crackers to go with it. Layer up the board with a variety of crackers, such as the Peter's Yard Sourdough Cracker Selection Box, which contains their Original Sourdough Crackers which pairs well with any cheese, while their Rye & Charcoal Sourdough Crackers work perfectly with soft cheeses such as a goat's or ripe Brie. The Poppy Seed Sourdough Crackers complement the flavour of a mild crumbly cheese like Caerphilly – I can also highly recommend their Smoked Chilli Sourdough Flatbreads for dipping in a freshly-baked Camembert – divine.
Adding the accompaniments
Once the cheese, crackers and flatbreads are on the board, then you can add all the other little bits to nibble on.  Think of soft sweet figs, ripe black grapes, cornichons, a small bowl of seasonal chutney and so on. You can really add whatever you like. Nuts, berries, apples, pears, it is up to you.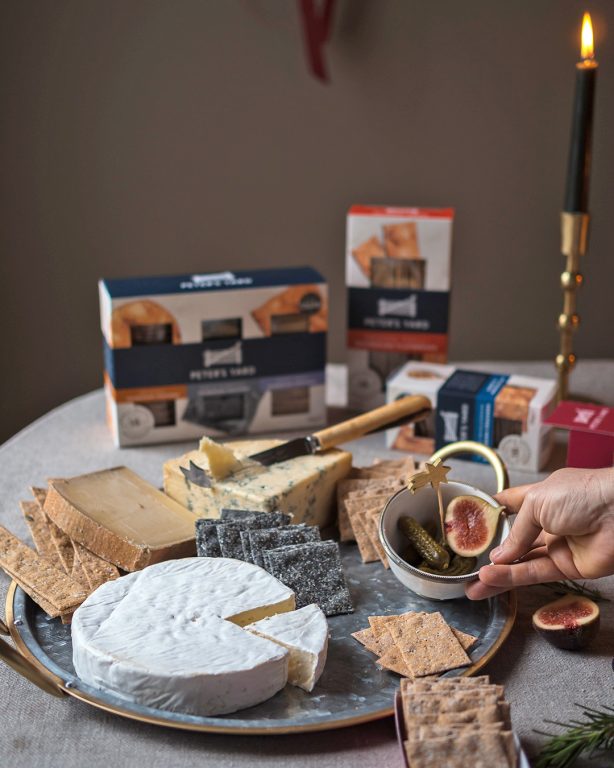 Finishing touches
To make the board look festive, add a little sparkle – it is Christmas, after all.  Mini gold stars on cocktail sticks are fun, then add a festive touch by using greenery and orange slices.  Rosemary looks like pine but is edible and smells amazing too.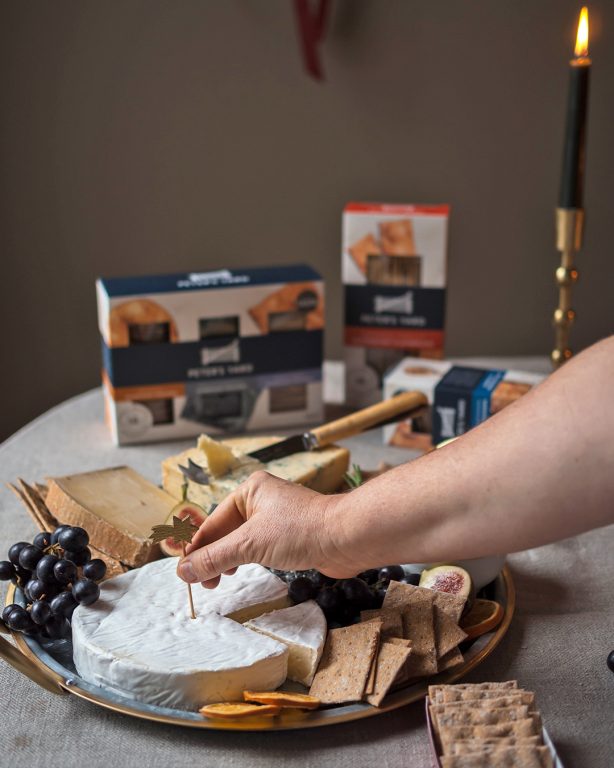 The WOW factor
Add something of a showstopper to your festive cheese board, by creating a baked camembert, perfect for dipping the Peter's Yard Smoked Chilli Sourdough Flatbreads in. Here's my simple guide to making a Baked Camembert with festive figs.
Ingredients:
Whole camembert wheel
A ripe fig, sliced thinly
A clove of garlic, sliced thinly
Fresh rosemary
1 tsp running honey
Method:
Preheat the oven at 180c fan
Carefully with a sharp knife, slice off the top of the camembert, leaving a small 'wall' around the edge. Place it back in it's wooden box, cut side up.
Poke in the top, using your knife to create slices in the cheese, the slices of figs, garlic and the rosemary tips.
Drizzle honey over
Bake in the oven for 25 mins, until soft and gooey.
Eat whilst still warm.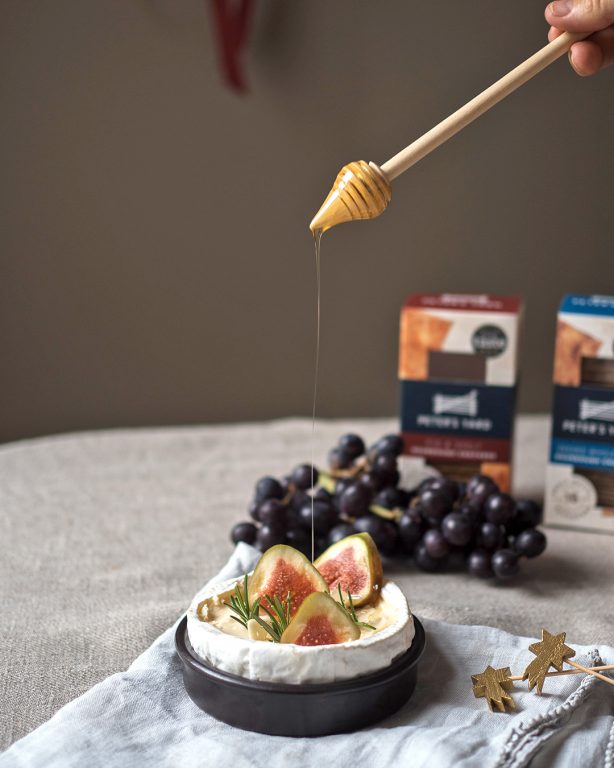 Set your table
Add candlelight with tall taper candles and brass candlesticks.  Fruit, like fresh clementines and pomegranate look great placed around the candles, as does spruce and fresh eucalyptus.  Keep extra crackers handy, as those ones on the grazing board will go pretty quickly.  Keep everything informal, side plates stacked nearby, with knives in a glass jar – the only thing left is to enjoy.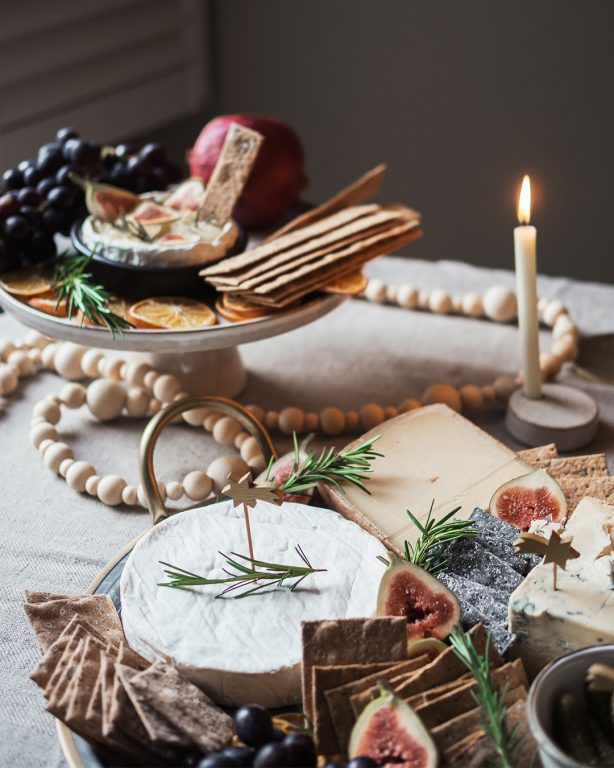 Written, styled and photographed by Lou Archell of @littlegreenshed
Sourdough crackers and crispbreads
Our hand-baked sourdough crackers and crispbreads are the perfect accompaniment to artisan cheeses, cured meats and dips.