Whole apricots baked in honey, bay and saffron topped with an almond crisp and served with ice cream sourdough crackers. Pudding, give me pudding every day. I love fruit crumbles and pies, there is nothing better than making a sweet treat for the people you love. This recipe is so simple and versatile. I use my almond crisp to top fruit through-out the seasons. I especially love apricots, they are such a ray of sunshine. This is lighter than a traditional oat crumble topping, delicious with custard or here with an ice cream sourdough cracker.
Amaretti crisp
Ingredients
150g amaretti biscuit or biscotti
75g butter
55g golden caster sugar
50g plain flour
80g flaked almonds
Preheat oven to 180'C
Method
In a blender blitz the amaretti biscuits into a rough crumb. In a mixing bowl rub the butter and flour together to resemble breadcrumbs and add the caster sugar. Stir together. Lay out on a baking tray and bake in the oven until golden for 10 minutes. Allow to cool. Stir the flaked almonds through the mixture. Set aside.
Saffron roasted apricots
Ingredients
12 apricots
120ml water
120g honey
1 pinch of saffron
4 bay leaves
Method
Preheat oven to 180'C
In a pan gently heat the water, honey, saffron and bay together. Place the apricots in a shallow baking tray. Pour over the honey mixture and roast at 180'C for 20-25 minutes until soft but still holding their shape. Once cool remove the stones and share out two apricots per serving bowl, spoon over the honey, apricot and saffron juices. Top with amaretti crisp. Serve with ice cream crackers, using Original Sourdough Crackers.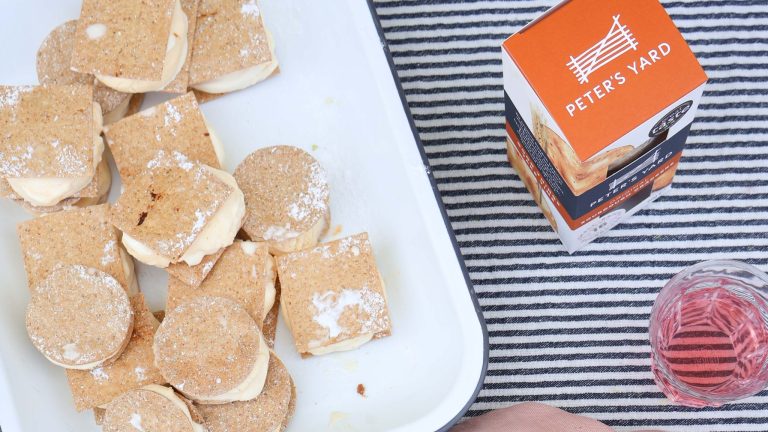 Full recipe by Emily Scott.