This month's "Taking Time" is a rather special one, as it features one of our favourite chefs and food writers, Gill Meller.
We've recently worked with Gill on a series of seasonal recipes using our sourdough crispbread and crackers – our shared philosophies around quality food, local ingredients and taking time made for a natural partnership and one that we're excited to share with you.
Gill's knowledge and love for simple, seasonal cooking that champions natural ingredients shine through in everything he does – we thoroughly enjoyed working with him on the project and including him in this month's journal, we hope you enjoy reading it.
It's very exciting to have worked with you on this project, how long have you been a fan of Peter's Yard?
It's been an absolute pleasure to be involved on this project and to meet the wonderful team behind Peter's Yard. It's a product I've always made space for on my table, no matter the occasion, and I know I always will.
The recipes you created for us are inspired by the seasons. What are some of your favourite things about cooking with produce at this time of year?
Cooking seasonally isn't just about seasonal ingredients. It's about opening your eyes to the world around you, connecting with your environment and your communities through food.  It's about supporting local farmers, fisherman and growers who are producing food in a the most natural way they can, in harmony with the shifting pattens of the year. Beyond all this it's simply the best way to eat. You can nearly always guarantee things are going to taste better.
We've all had a lot more time recently, how have you been making the most of this?
I've been enjoying living life at a slower pace. It's important that we take time to notice the world around us. Even the smallest details can give us a new insight. One thing I've enjoyed is setting up a vegetable garden at home, growing my own food to cook for family and friends. I've never really had enough time to do this before, so it's been a real tonic.
The last year has been very unpredictable, with many of us finding solace in the kitchen. What do you think it is about cooking that provides such comfort?
Cooking is a way of tuning out from everyday life. It offers a respite from all the noise and clatter, the phones and the screens. It's one of a handful of completely natural tasks that we are configured to perform. Some people find it very sedative, and others exciting. For some it's a methodical exercise and for others it's all about creativity. Whatever the reason, there is one thing that remains consistent, cooking is an act of kindness, for you and those around you.
What would you say your ultimate comfort food dish is and why?
Good question. It might have to be a proper fish pie the way my mum used to make it. Topped with mash potato , smoked haddock and boiled eggs – that's hard to beat.
Lastly, what's on your Christmas Day menu this year?
We are having some home smoked trout for starters. Then, a free-range turkey from Piper's Farm – some ham with parsley sauce, and all the trimmings. I think we'll finish up with some lovely cheeses, chutney and some Peter's Yard crackers, of course!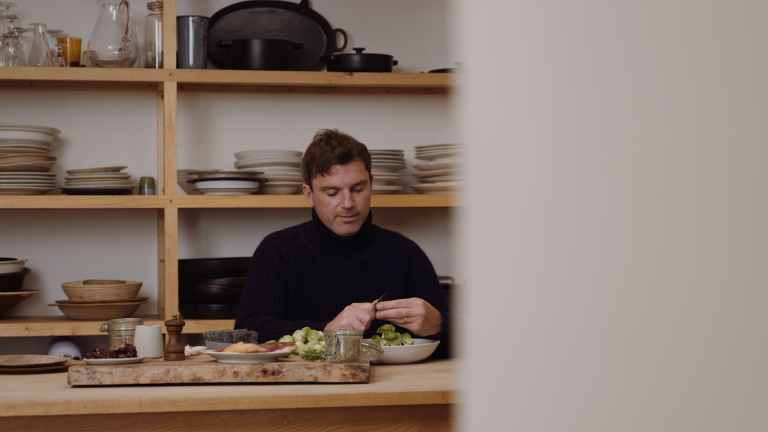 If you'd like to find the recipes that Gill has created for us, then visit our recipes here.