There's something about the fragrance of certain spices that works with cheese. Just ask the Dutch, who have long sprinkled cumin and sometimes caraway seeds into their curd to make flavoured Goudas. The earthy spices provide a jolt of flavour to the sweet, buttery cheese.
It's why our Caraway Sourdough Crackers are such a good match for unflavoured, aged Goudas. These cheeses typically have aromatic notes of caramel, cocoa and coffee, which are offset beautifully by the sweet aniseed notes of the caraway seeds that fleck the crackers – while the cheese's brittle, crystalline texture echoes their crisp crunch.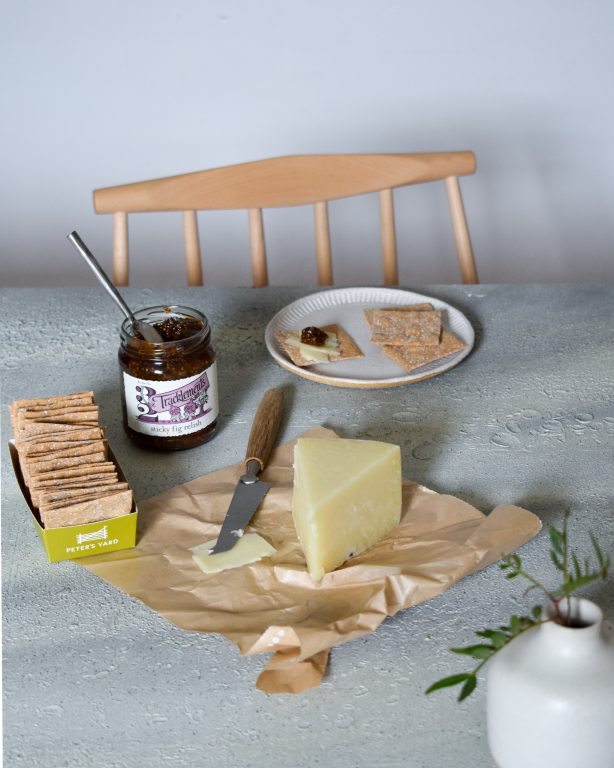 Made in small batches with a 45 year old sourdough starter, that is fermented for 16 hours, our caraway crackers also match up nicely with young Pecorinos from Sardinia, made from milk from the Sarda breed of sheep. The animals graze on herbs and wild grasses across the rocky island, giving Pecorino Sardo rich, herbaceous and peppery notes that dovetail with the caraway. A dollop of fig jam brings everything together.
In Alsace, in North East France, people like to sprinkle toasted cumin or caraway seeds over the local cheese Munster – a gooey, pungent fromage originally made by monks. The principle also holds true for other soft, washed rind cheeses. Serve a slice of Livarot or a scoop of Époisses on a Caraway Sourdough Cracker and the seeds act like seasoning for the beefy, brothy notes that come from the rind. The contrast between spice and funk matches up nicely to a strong Belgian ale, such as a Tripel, which has the power to take on the cheese, but also malty sweetness that complements the delicate liquorice notes of the caraway. Spice up your life.